Coral Springs Restoration Expert - Fire Damage Restoration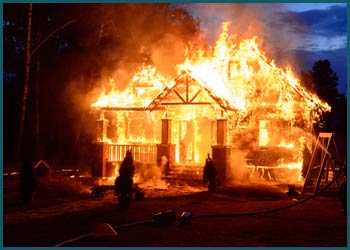 Whether you run a business or are a homeowner, nothing can be more devastating than watching your property go up in flames. All it takes is a misplaced candle to start a raging fire that laps up your property in its fiery rage. It can destroy your home, char your possessions to ashes, and take a tremendous emotional toll on you, your family members or employees. It's not just the fire that's damaging. To top it off, its after-effects such as smoke, soot, odor, debris and ashes can continue to deteriorate your property's condition to an extent where damage becomes permanent and irrecoverable. Substantial water damage can also be brought about by efforts to suppress the fire. While all may seem lost, hope comes in the form of our fire damage restoration services in Coral Springs, FL area.
With Coral Springs Restoration Expert, you receive rapid response and immediate intervention by trained experts, who work to stem the losses, bridle the damage and restore your life to a point where there's no signs of a fire ever wrecking your property and your peace of mind.
We'll be there for you:
When the fire trucks leave and all you can see is a hopeless trail of destruction and chaos, you can count on us to be there for you and make your life whole again. We understand how mentally taxing such events can be, and know that with immediate remediation we can curb the losses to a bare minimum and with quick restoration, you'll be able to push the tragic event behind you and move on. All it takes is a call to 954-355-0054 and we'll be on our way to set your life back on track following a fire breakout.
Emergency property protection
Once we reach your place anywhere in Coral Springs, FL area, our fire restoration professionals will work with you at every step of the way. From protecting your belongings to carrying out a thorough cleaning process to prevent damage from residue, we get right to the task without unwarranted delays because we know how timing is critical to restoration. We then devise a comprehensive restoration plan, determine which items can be salvaged through our advanced equipment and which need to be replaced.
Restoring your life, one step at a time
Coral Springs Restoration Expert knows that some things are just irreplaceable, so we strive to restore these items to you in the same or perhaps in a better shape, after the fire breakout. The items are processed using specialized equipment and those affected by water damage are contained within drying chambers where heat and air movement contribute to fast and effective drying. Special chemical cleansers are used throughout to clean up the property. High-end deodorizers are used to neutralize any odors and prevent other surfaces from taking a hit from secondary damage. Smoke and soot build up is eliminated. We also treat HVAC systems to remove potentially harmful toxins and sources of odor that may circulate through the property after the fire.
From your cherished sofa to kitchenware, we know how many memories are latched on to your property, and leverage on over two decades worth of experience to get your property back in shape. No matter where you are in Coral Springs, FL area, we'll reach out to you – all you need to do is reach out to us on 954-355-0054